... Or a lesson in semantics in time for Turkey Day
Being a writer, I naturally wonder about the semantics of Thanksgiving. Thankfulness or gratitude requires an object. When someone holds the door for me, I thank them. I don't do this if I open the door and walk through it myself. When someone gives me a present, I thank them; I didn't thank myself this morning when I bought myself a new watch.
So, to my word-obsessed mind, the question naturally arises, "Just who are we giving all those thanks to?"
Or, to put another way, who do atheists thank on Thanksgiving?
The first Thanksgiving was a harvest festival, and as such, was a way to give thanks to God for His provision. For people who believe, as Scripture says, "Every good and perfect gift is from above," tomorrow will be a day of real Thanksgiving to the God who cares for them.
But I have noticed that often when people (those of faith and otherwise) say they're thankful, what they really mean is they're happy or pleased. As in "I'm so thankful that I bought my turkey last week when it wasn't crowded." Or, "I'm sure grateful Aunt Sally didn't bring that jello mold this year."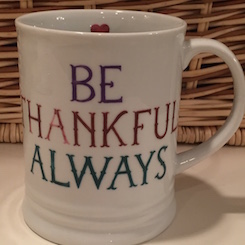 Thankfulness is focused on the source of the blessing; happiness on the receiver.
Tomorrow, at our Thanksgiving feast, we will go around the table and one by one, say what we are thankful for. When it is my turn, will I remember the giver of the gift, or settle for the pleasure it gave? Will I be thankful, or merely happy. Will you?