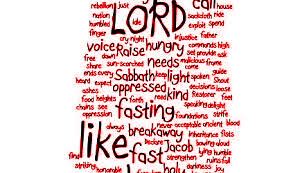 My inspiration for this Lent's spiritual practice came from Twitter. There, among the streams of the sublime and the ridiculous, came this challenge from Lynne Hybels:
"Years ago a friend said that if I read Isaiah 58 for 30 days in a row, it would turn my life upside-down. I did. She was right. Try it."
This seemed particularly appropriate for Lent, a time devoted to self-examination, penitence and fasting. Lenten fasting isn't only about fasting from food, although that can be an important discipline. Fasting can be any intentional abstinence — from television, from gossiping, from social media. In Celebration of Discipline, Richard Foster says, "Fasting reveals what controls us." I have certainly found this to be true. It is not until you try to do without something that you realize the hold it has on you and what deeper needs it masks. I never thought of myself as particularly tethered to my phone until I decided to abstain from electronic communication on the Sabbath. Talk about Fear of Missing Out!
But fasting isn't only about what we give up; it is about what we can gain. Throughout Scripture, fasting is a way to draw near to God, to hear his voice, to know his will. Isaiah 58 will be my perfect companion this Lent. It challenges me to see the kind of fasting God honors. It shows me the true path to God's blessing. It brings me to the headwaters of holiness.
I'm going to read Isaiah 58 every day this Lent and see where it leads me. Will you join me?