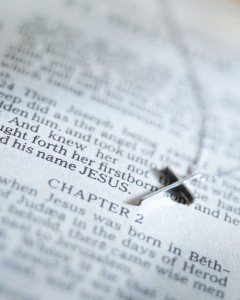 "The right scripture at the right time, every time."
That's what a little Bible reference book in my library promises. Want to know about repentance? Take off your hair shirt and turn to page 106. Pondering forgiveness? Stop plotting revenge and flip to page 134. Struggling with lust? Go to page 178, and quick.
This handy-dandy book is part of the Bible as Instruction Manual genre. It's an appealing idea on the surface — let's face it, we all want easy answers to difficult questions. When we can't get our new Smart TV to connect to Netflix, we're happy to have step-by-step instructions to follow. With any luck, the manual is clearly written, and we can be binge-watching House Hunters in no time.
But our lives aren't electronics and God isn't some techie writing FAQs.
The Bible isn't a static reference work offering one right answer to any question. It is a conversation and conversations, especially with the Creator of the Universe, aren't neat, predictable, or free of nuance.
Unlike an instruction manual, the God who reveals Himself through written words asks as many questions of us as we ask of Him. To really know how Scripture informs any given situation, its Author is going to want to know more. I may ask, "How should I handle this conflict?" The Author will ask "Why does this situation make you so angry?" I may ask, "Do I need to reconcile with this person who has hurt me?"  The Author asks, "What would reconciliation look like?" I might wonder, "Does scripture support what I think is right?" The Author asks, "What would bring shalom — wholeness and peace — to this situation?"
Case in point: the email that made my blood boil.
Not long ago, I got an email that hurled an accusation at me, in a snarky and condescending tone. The church-y words it contained — "I'm praying for you" and signed "Peace" — only made me madder.
My first instinct was to proclaim my innocence, so skillfully, with such stinging eloquence that my correspondent's maladroit missive would be put to shame. I would expose his calumny and his bad writing in one fell swoop. And, for good measure, I would point that, really, this was all his fault. Perfect.
I didn't send it right away. As I sat with my counterpunch coiled and ready to deliver a devastating blow in the name of all that is Good and True, I wondered: what would scripture say about this contretemps, especially given that it was in the context of Christian community? What did God want to see happen here? 
The Truth as a (Blunt) Weapon
The first thing that came to mind was God's prophets, who were given the thankless task of proclaiming Truth to people who didn't want to hear it.  God respects and honors the truth, I told myself.  In fact,  Psalm 15 says this is a condition for coming into God's presence.
Lord, who may dwell in your sacred tent?
    Who may live on your holy mountain?
The one whose walk is blameless,
    who does what is righteous,
    who speaks the truth from their heart;
(Psalm 15: 1-3)
I liked the sound of this. It gave me Holy permission to defend myself by speaking the truth.  Unfortunately, the next verse says otherwise . . .
whose tongue utters no slander,
    who does no wrong to a neighbor,
    and casts no slur on others;
Hmmmm. Speaking truth isn't the only measure of righteousness. We are reminded that we must not cast "slur on others." My counterpunch felt good, but it suddenly didn't feel right.
Turn the Other Cheek?
Perhaps  Matthew 5:39 should be my lodestar: 
 
But I tell you, do not resist an evil person. If anyone slaps you on the right cheek, turn to them the other cheek also.
Maybe I should just let it go. Maybe I should shrug my shoulders and chalk it up to "You can't fix stupid."
I live with this possibility for a day. Ignore it, shake the dust off my feet, move on. When Jesus suggests this response, it comes from a place of bravery and confidence: "The Lord is my stronghold, whom shall I fear?  For me in this situation, letting it go feels like cowardice and fear. It didn't feel good and it didn't feel right.  
Truth, Tempered
While I'm in Matthew, I read on:
"If your brother signs against you, go and tell him his fault, between you and him alone. If he listens to you, you have gained your brother."
                                                                   Mathew 8:15
What if I responded — honestly, but without rancor? Could I confront with charity? Was it possible to defend myself without attacking him?  Was it possible to respond in a way that honored the truth while holding out hope of shalom?   And so I wrote a response, direct, but minus the venom and self-righteousness.  This felt right.  Much to my surprise, my correspondent apologized, which NEVER would have happened had I sent my first email.
The thing is, each of these "answers" to my question could have been appropriate. I can imagine other circumstances when God might want me to be a latter-day John the Baptist, speaking Truth, no matter the consequences. I can imagine a situation in which God would want me to hold my tongue, and walk away, confident in God's vindication of me.  
But I can't be trusted know which is which without the Holy Spirit to "guide me into all truth."
I keep this prayer in the front pocket of my Bible to remind me of what I am holding in my hands.   It tells me that I need to read reverently, listen carefully and allow the Author to ask me questions before answering any of mine.
Speak, Lord, for your servant hears.
Grant me ears to hear,
Eyes to see
Will to obey
Heart to love
Than declare what you will,
Reveal what you wiIl
Demand what you will.
                                     (Christina Rosetti)

Follow In Ordinary Time



Share this post