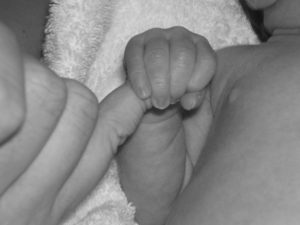 Today is the anniversary of the first time I cried. I was probably hungry, or in need of a clean diaper. Perhaps it was the bright lights, the shock of being smacked by the doctor, or the odd sense that my body was no longer tethered, protected, safe. It surely wasn't the last time. There have been many tears over the years, some, like that first day, because I felt a need that I couldn't satisfy myself. There have been hot tears of anger, helpless tears of frustration and tears of stone cold fear. I have cried over the sublime and the ridiculous. I have wept with grief and with gratitude. I have cried mysterious tears with no obvious cause —"holy tears" the mystics call them.  But that day was the first.
Today is the anniversary of the first breath I drew, the first of millions. Most of them I breathed without noticing, like an app running quietly in the background while I focused on more important things, like why I wasn't popular or what I should have for dinner.  Even so, there are some breaths that I do remember: The breath that was knocked out of me when my parents died. Breaths that came quickly when I danced to my favorite song (Uptown Funk, anyone?) Slow, steady breaths as I fell asleep in my husband's arms. The breaths that emerge from my body as song. But that day was the first.
Today is the anniversary of the first time I felt someone touch me. That first touch was likely a firm smack on the bottom (see The First Time I Cried), but after that, there would have been kind hands cleaning me, wrapping me, placing me gently in my mother's arms. That day was the first time I felt my mother's hands holding me, touching my cheek, stroking my hair (I had a lot of it!). There have been many touches since then. How small and safe my hand felt enfolded by my father's, and the sting of that same hand when he hit me — just once, when his rage at my teenage rebellion boiled over, but a reminder of how we can hurt those we love the most. Holding my big sister's hand as she walked me to school, hugs of consolation, triumphant high-fives, pats on the back (both literal and figurative), having my forehead anointed with oil — so many touches followed that first one, long ago.
Today is the anniversary of the day my life — this life — began. There will be a last day, too, something I think about more than I used to. Sometimes I find myself wondering how and when that day will be — more with curiosity than fear. I am acutely aware that I have more days behind me than ahead and I want them to count. I want to love well, do good work, and feel joy, even in sorrow.  I want to honor the God who imagined me and created me, who has known me from the beginning — and I mean the real beginning, before the first breath, the first cry, the first touch.  
The Psalmist put it this way:
For you formed my inward parts;
    you knitted me together in my mother's womb.

I praise you, for I am fearfully and wonderfully made.
Wonderful are your works;
    my soul knows it very well.

My frame was not hidden from you,
when I was being made in secret,
    intricately woven in the depths of the earth.

Your eyes saw my unformed substance;
in your book were written, every one of them,
    the days that were formed for me,
    when as yet there was none of them.

                                              (Psalm 139: 13-16)