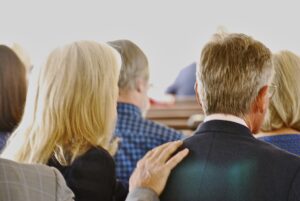 He listened to his pastor preach a sermon, as he had many times before.  But this time was different.  The sermon contained some strange — you could even say offensive — ideas.  It left him confused and wondering if his faith was misplaced, if what he thought about God and this prophet of His was not true. 
After the sermon was over, he looked around and saw many in the congregation just up and left, disappointed and possibly disgusted at what they just heard.  They liked much of what the pastor had to say, but man, this talk about eating flesh and drinking blood was a deal breaker.  
His pastor turned to him and asked "What about you?  Are you going to go too?" 
This is what the Bible tells us happened to Peter and the disciples in chapter 6 of the Gospel of John.  
Jesus has just performed two stunning miracles — feeding 5,000 people with nothing more than a few loaves and fish, and walking on water.  The crowds follow him and he resumes teaching, and everything is going great until Jesus says this:
"Whoever feeds on my flesh and drinks my blood has eternal life, and I will raise him up on the last day. For my flesh is true food, and my blood is true drink. Whoever feeds on my flesh and drinks my blood abides in me, and I in him. 

John 6:54-56
At this, many in the crowd turn and leave and Jesus turns his attention to his disciples:
"So Jesus said to the twelve, "Do you want to go away as well?" Simon Peter answered him, 'Lord, to whom shall we go? You have the words of eternal life, and we have believed, and have come to know, that you are the Holy One of God.'

John 6:67-69
Translation: 
"I don't understand what you have just said about eating your flesh and drinking your blood.  It sounds weird and pagan, and icky.  But at the same time I believe you are the Christ.  Maybe one day I will understand, maybe not.  But this discomfort, this tension I am feeling does not outweigh everything else I know to be true about you.  So, no, I will not turn away, but continue to follow, bringing my unbelief with me."  
This has always been one of my favorite passages in the Gospels because it captures "faith" to me.  There's lots I don't understand.  There are things that offend me sometimes, disappoint me so deeply that I want to turn away with the crowd and say, "Nope, you lost me there."  
I have been through such a season lately, where I have been disappointed with God because He has not met my expectations. I prayed for healing, would have been satisfied with comfort, and received neither. I wrote recently about how I am waiting for my sadness to resolve into praise.  
In this most unhappy of spaces I have been tempted to walk away, but have not.  I have heard Jesus turn to me, just as He did to Simon Peter and ask, "What about you?  Do you want to go too?"
And like Simon Peter, my answer has been, "To whom can I go? You have the words of eternal life."  And so, instead of turning tail and walking away in search of a more pleasing and accommodating prophet, I have continued to put one foot in front of the other, continuing to walk towards Jesus, dragging my sadness with me. This has not been easy.   
I continued to attend weekly Bible study while feeling that the Word had nothing to say to me.  I continued to attend worship when I "wasn't feeling it."  These were painful things.  Painful to sit where I always do, with people I have claimed as my own and to feel utterly disconnected.  Painful to hear music that once moved me and words that I believed to be true, and to feel indifferent.  When the worship leader invites me to recite the Apostles Creed, asking: "Christian, what do you believe?" I open my mouth and the words don't come.  I look around with envy — not so long ago, I was one of them, hands raised in praise, eager to announce my fidelity, my gratitude, my submission.  I feel utterly lost.  
But where else can I go?  Some part of me knows that this place, these people, this message is my only hope, that this is where one day I will hear the words of eternal life and once again feel alive.
When I say, "Where else can I go?" I'm not shrugging my shoulders and saying, well, it's better than nothing.  It's not Pascal's Wager, commonly (if mistakenly) portrayed as "It's impossible to know that God exists, so you might as well live as if He does, just in case."  No, I'm not hedging my bets or even faking it until I make it.  I am holding two contradictory ideas in tension:  both true, yet seemingly irreconcilable.  God is good and loving. God does not always answer me as I'd like.  I am not the first to struggle with this paradox.  It's as old as Job and as current as yesterday.  And because I am not the first, there is great wisdom to be mined from better theologians than myself.  Consider this from Martin Luther:
"For God's sake, then, turn your ears hither,
brother, and hear me cheerfully singing,
me, your brother, who at this time is not
afflicted with the despondency and
melancholy that is oppressing you and
therefore is strong in faith, so that you, who
are weak and harried and harrassed by the
devil, can lean on him for support until you
have regained your old strength, can bid
defiance to the devil, and cheerfully sing:
"Thou hast thrust sore at me that I might fall;
but the Lord helped me.'
The last time I was in worship, I was no longer envious of those around me, mourning my loss of certainty and feelings of consolation.  No, somehow, I felt buoyed by their voices, their proclamations of faith.  It was as if they were saying "You are weary. Let us carry you until your strength is restored." It reminded me of a passage from Luke's Gospel:
"And behold, some men were bringing on a bed a man who was paralyzed, and they were seeking to bring him in and lay him before Jesus, but finding no way to bring him in, because of the crowd, they went up on the roof and let him down with his bed through the tiles into the midst before Jesus." 

                                                                              Luke 5:18-19
I always thought it was interesting that we know nothing about the paralyzed man's spiritual condition.  We don't know if he had faith in Jesus, we don't know if he even asked to be healed. All we know is that in their great love and faith, his friends carried him to Jesus, the one they knew could help him. 
And that was enough.