In honor of National Cat Day I want to tell you about Bert.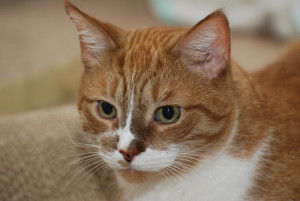 Bert is a 10-year-old cat who has come to live with us after his human died this summer. I recently wrote about my sorrow and frustration at not being able to save her from the many challenges she faced. http://bit.ly/1GiK18I
I couldn't save my friend, but I wound up rescuing her cat.
With his human companion suddenly gone and his already chaotic home upended by family members clearing it out, Bert seems to have decided that I was his. I was the only one he would let near him; he'd greet me with a purr and an invitation to rub his belly.
Cats are funny that way — they take your measure, make a decision, and don't look back.
I agreed to take him in temporarily in spite of some very real concerns. Would he get along with Roxy, our cat-in-residence? Would he use a litter box after years of using his whole apartment as one giant one?  Plus, my husband needed convincing. 
But Bert needed somewhere to go and we decided to give it a try and hope for the best. After one day hiding in the bookcase, he attached himself to me, and hasn't let go since. He happily uses his litter box and plays with his scratching toys. He and Roxy tolerate each other most of the time. He nuzzles and cuddles and has one paw on me at all times. He is in my lap right now.
The funny thing is, for months before he came to live with us, I had been talking about getting another cat. Not that I don't love Roxy — but she's not a lap cat, and I needed a lap cat. But I was afraid Roxy wouldn't be too keen on the idea, so it remained an itch that wouldn't be scratched.
But Bert needed rescuing and somehow that trumped all my previous hesitations. What I couldn't do for myself — get another cat just because I wanted one — I could do for someone else.
Now maybe you don't think that with everything going on in the world, God concerns himself with cats and the people who love them. But I do. I can imagine God saying, "Listen, you two need each other." Maybe in His infinite mercy, God saw my sorrow over not being able to save my friend and gave me the pleasure of seeing Bert thriving under my care.
Maybe God is that loving and that kind.