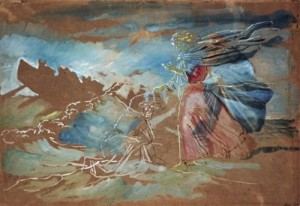 When I was 30, I thought that my life had become too safe. I decided that every time I went on vacation, I would do something that terrified me. So I parasailed over the Atlantic Ocean. One time, despite my fear of heights, I climbed a series of rickety ladders leaning unsteadily up against the side of a mesa in Arizona. I keep pictures of these accomplishments on my bulletin board to remind me that it is possible to not let fear rule my life.
Fear is just part of being human, which is why the Bible talks about it a lot. (The word itself appears 399 times!) Scripture assumes that we will feel fear. The question it asks is, "What are you going to do about it?"
One of my favorite stories is from the book of Daniel. Here we find Shadrach, Meshach and Abednego, condemned to die because they would not worship the golden idol of the king of Babylon. They expected God would be faithful to His faithful promise to be with them, even if he didn't save them from the fire.  Now it's easy to think that their great faith in God meant they weren't afraid. I think they were plenty afraid.
But faith is about what we do with our fear.
Do we allow our fears to set the boundaries of our lives, then resign ourselves to living within them? Or do we acknowledge our fear, even respect it, but make it subject to boundaries set by God – what God expects of us and what we can expect of God.
Shadrach, Meshach and Abednego did that. Afraid or not, they knew what God expected of them: You shall have no other gods before me. Afraid or not, they knew what they could expect of God: God would be faithful to them, too.
Now, they weren't sure how God would do that. They just knew he would. And when they are thrown into the furnace, we see how God fulfills his promise. A fourth man, "who had the appearance of a god" enters into the fire with them, and all four emerge, unharmed. Instead of removing these three faithful believers from the danger and pain, God was with them – in the most literal sense.
And for a completely different picture of faith and fear, I think of Peter. Peter and the disciples find themselves in a storm — the wind is howling, the boat is pitching back and forth and when he sees Jesus walking on water towards him, he thinks it's some ghost come to finish them off. But even though it looks like Jesus, and sounds like Jesus, Peter needs more proof. He says, "If it is you, tell me come to you on the water." Peter gets his proof – he is able to walk on the water towards Jesus. Then Peter looks at the storm and sinks because in that moment, he doubts that God is with him.
In the middle of the fire, you can almost hear Shadrach, Meshach and Abednego look at the fourth man and say, "God is with us!" as if they expected him all along. Of course God is with them! That is what God does.
In the middle of the storm, Peter seems to say, "God is with us?" as if he can't quite believe it.  Peter not only didn't expect God to be with him in the storm, he didn't believe it when he was.
Faith is about what we do with our fear.  It is not about some unshakable certainty. It is not some superhuman bravado. It is expecting God to show up when what we fear has come true.
When you are in the middle of the storm, or the fire, or the health crisis, or the family problem, what are you expecting?  Do you expect God to show up?  More importantly, do you recognize it when he does?