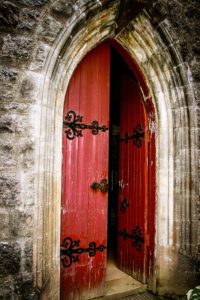 "I don't want you to alarm you …" Tell me, is it possible to hear those words and not be alarmed?
The pastor of the church where I would be preaching that Sunday called to alert me about an "incident" during worship the previous week. A man showed up in the middle of worship and walked down the center aisle carrying a large duffel bag and ranting. He was "subdued" by the ushers and escorted out. "I don't think he'll be back, but the state police will be there on Sunday just in case. I thought you should know."
Her voice was calm, and reassuring. Still, this is what I heard:
Crazy man.
Large duffel bag.
Had to be subdued.
State police.
My training as a lay preacher covered the design of worship services, doctrine, hermeneutics and Biblical exegesis. But not once did anyone tell me what to do when worship was disrupted by an angry man with a large duffel bag. All I could think was, "I'm just the substitute teacher! This is way above my pay grade."
Other than being greeted by state troopers (which was, at once, reassuring and unnerving), it turned out to be an unremarkable worship service.
My worst fears didn't come true that Sunday, but other churches haven't been spared the horror I feared.
This week, it was Sutherland Springs, Texas where murderous evil breached the sanctuary. And, as if the execution of 26 people and wounding of as many more wasn't horrible enough, the fact that it took place in a church was particularly hard to bear.
For believers, the idea that their sanctuary could be violated in this way was unthinkable. Many people think of church as the ultimate safe space, a place we can enter and then pull the drawbridge up behind us, leaving the world and its madness behind. When massacres happen in Sutherland Springs or Charlottesville, our idea of church as a spiritual stronghold is challenged.
So, here are the questions I've been chewing on:
Should we expect to feel safe in church?
Is church a space where God will not allow the world to intrude?
It strikes me that this is a First World Question. According to Open Doors USA, each month, 214 churches are destroyed and 772 forms of violence are committed against Christians worldwide. In countries like Syria and Iraq, the Christian population has been decimated. Churches in Mali, Nigeria, Somalia Pakistan and Kenya have been destroyed and Christians murdered.
For all the talk of the marginalization of the church in the U.S., and the ongoing culture wars that can make us feel under attack, the church in America doesn't know the first thing about persecution. For too many of us, church is a soft place to land, a city whose walls protect us from all harm. The rest of the world has no such illusions. Every worship service is a defiant declaration that Jesus is Lord; no one expects the surrounding culture or political organization take that lying down. They are sorrowful, but not surprised, when evil comes to church.
I'm not suggesting that what happened in Texas last week was persecution; in fact, as of this writing, motives are unclear. But it has caused me to admit that I think that somehow when the church doors close behind me, the world and its evils will not intrude. I admit that I am like many people who think of church is where I can let down my guard and make the world go away.
But if the church is being the church — open doors, no moats or drawbridges here — it is possible evil will walk in. It is possible that God's holy space will be profaned in word or in bloody deed. It is easy to worship in safety. Worshiping without guarantees of physical safety or comfort — now that's real faith.
I recently went on pilgrimage to Ireland, tracing the steps of St. Patrick. One of my favorite places was Ballintubber Abbey, continuously in use since it was built in 1216. In 1653, the abbey was burned by Cromwell's forces, destroying the roof and several outbuildings. Nevertheless, for the next 250 years, people continued to worship there, week after week, regardless of weather, and in spite of laws prohibiting it. As I sat in the rebuilt abbey, I wondered: Would I have been so faithful? Would I have been as brave? Would I have been a lookout for the priest hunters who came to kill my pastor? Would I have helped him escape certain death? Would I have been willing to kneel on the cold ground in worship?
Or would I have wondered, as I did this week, "Should I expect to be safe and comfortable in church? Will God allow the world to intrude?"
I don't know why, but sometimes evil walks into church the same way it drives down the bike path or firebombs prayer meetings or enslaves young girls. I don't know why God doesn't always intervene to prevent such suffering.  But I do know that proclaiming Jesus is Lord is a declaration of war and I should be ready:
Therefore take up the whole armor of God, that you may be able to withstand in the evil day, and having done all, to stand firm. Stand therefore, having fastened on the belt of truth, and having put on the breastplate of righteousness, and, as shoes for your feet, having put on the readiness given by the gospel of peace. In all circumstances take up the shield of faith, with which you can extinguish all the flaming darts of the evil one; and take the helmet of salvation, and the sword of the Spirit, which is the word of God.

Ephesians 6:13-17