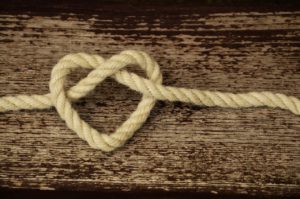 "Never visit anyone empty-handed." This was one of my mother's inviolable rules of etiquette. When you rang the doorbell, you'd better be packing — a nice babka from the corner bakery, a book or magazine, or flowers from your garden.
I broke this rule recently.  I didn't have any choice. The friend I visited is in prison.
I wasn't allowed to bring in anything — no babkas, no books, no bouquets. The solid metal door slid open and I walked in empty-handed with nothing to offer but myself.  I felt like Wonder Woman without her bracelets — stripped of power and protection.  
In difficult situations, The Present is a welcome social lubricant. The book can be a conversation starter. The cake is an excuse for some distracting busy work as plates are fetched and tea is brewed. Your friend can marvel over the intricate stitchwork of the prayer shawl. But there would be none of that here; I had no props that could give me the illusion of being useful or any tangible sign of my care to leave behind. Like Alice's Cheshire Cat, all that would be left at the end of this visit would be my evanescent smile.
If I couldn't bring a present, I still hoped I could offer some magic words — words of explanation, exhortation, words of wisdom. I came up empty there, too. So I sat. I listened. I talked a little. We laughed. It hardly seemed enough.
And yet. Without the protective cover of a present, I was forced to consider the gift of presence. It is easy to minimize the power our "mere" presence can hold, and yet when I think of the hardest times of my life, what I remember are the people who sat with me, who let me grieve the way I needed to, and who were simply there. I think of the time my friend Peggy cajoled me into leaving my dying mother's hospital bed to go for a walk. We went to the St. Patrick's Day parade and it was an hour of respite, a reminder that outside that hospital room, there was life. Baton-twirling, bagpiping, beer-guzzling life. It didn't change anything. We returned to the hospital to the same diagnosis.
But I returned knowing that whatever was coming, Peggy would hold my hand, make me laugh, let me cry. It was a small thing. It was everything.
This is all we really want and it is all we need. In times of crisis, we stand in a long line of sufferers stretching all the way back to Job who cry, "Why?"  There are theological arguments that address this question, but often we have to be satisfied with mystery. Ultimately, we make peace with "Why?" and instead ask, "Who?" Who will stand with me? Who will be brave enough to share my pain? Who will let me cry and listen to my darkest thoughts without shifting uncomfortably in their seat? Who will be Jesus to me?
This is one of God's enduring promises: I will be with you. And while this is true in a cosmic sense, it is also true in the most literal, boots-on-the-ground sense. God was with me because Peggy was with me. God was with my friend because I was willing to walk into that prison, sit down and offer my presence, as inadequate as it seemed.  God is with us through us.
"Two are better than one; because they have a good reward for their toil. For if they fall, one will lift up the other; but woe to one who is alone and falls and does not have another to help. Again, if two lie together, they keep warm; but how can one keep warm alone? And though one might prevail against another, two will withstand one. A threefold cord is not quickly broken."

                                                               Ecclesiastes 4:9-12
Our presence can seem like an insignificant offering, all that is left after admitting that we can't fix the problem, take away the pain or heal the illness.  We couldn't be more wrong.  It is nothing less than the gift of God to the people He loves.