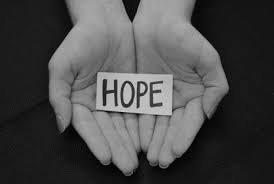 This Christmas, I'm asking for the gift of hope.  
I don't mean the kind of hope we casually toss about in our every day conversations. We say "I hope you feel better" and what we really mean is that we want it to be true, and — fingers crossed — maybe it will be. It is no more than a wish we might make on a shooting star.
That kind of hope is easy, cheap and useless.
No, the hope I want is different. Not a facile, throwaway pleasantry, the hope I want is grounded in certainty and expectation. When God's people say they have hope, it means they fully expect something to happen, despite any evidence to the contrary.
In the times of trouble, when darkness whispers that there is no light and never will be again, people of hope hear another voice. Probably the most radical thing the Christian faith teaches is that even in these dark moments — especially in these dark moments — we can can hear that other voice, reminding us that God is faithful. Faint at first, then growing stronger and louder, we hear the words that say we can hope in God because He has never forsaken us and never will.
Although we can't be certain how or why or when, hope says we can be confident that God will act.
Scripture is full of this kind of hope. The Psalms declare over and over God's steadfast love and faithfulness; the Prophets warn of God's judgement, but just as often remind us of his inviolable covenant with us. But for my money, if you want to know what real hope looks like, listen to Mary's song in the gospel of Luke:
And Mary said,
"My soul magnifies the Lord,
    and my spirit rejoices in God my Savior,
for he has looked on the humble estate of his servant.
    For behold, from now on all generations will call me blessed;
for he who is mighty has done great things for me,
    and holy is his name.
And his mercy is for those who fear him
    from generation to generation.
He has shown strength with his arm;
    he has scattered the proud in the thoughts of their hearts;
he has brought down the mighty from their thrones
    and exalted those of humble estate;
he has filled the hungry with good things,
    and the rich he has sent away empty.
He has helped his servant Israel,
    in remembrance of his mercy,
as he spoke to our fathers,
    to Abraham and to his offspring forever."
Now this is a young woman who has every reason to be afraid and worried. She knows that her pregnancy will, at best, make her the subject of gossip, snickering and shaming. She knows that at worst, it could lead to her death as an adulterer.  She has been given the unimaginable responsibility of raising the Messiah, something nothing can really prepare you for.
And yet she has hope — not the wishing kind that would have her saying, "Man,it would really be nice if God shows up!"
Her hope is the expecting kind, the kind that says, "I know what God has done in the past, and I know He will do it again."
Confession: There's a cynical world-weariness still lurking in dark corners of my soul that thinks this not something a real person could actually do or feel in times of trouble. The Mary I met in Sunday school was someone so impossibly holy that although I found her admirable, she was no more real than a princess in a fairy tale.
And yet, as I have grown in age and faith, I know that there are people — real people — who have the same kind of expecting hope as Mary. Real people who face uncertainty with the certainty that God will act. Ordinary people who face death — their own or others' — with a peace that undergirds to their grief. And I ask myself, how do they do it?  How did Mary? 
The answer lies in the angel's declaration to Mary: "The Holy Spirit will come upon you, and the power of the Most High will overshadow you; therefore the child to be born will be called holy—the Son of God."
The power of the Holy Spirit is what will make the impossible — a virgin conceiving — happen. It is also what makes it possible for her to have the joyous hope she sings about in her great song of praise.
Her expecting hope is nothing less than a gift of the Holy Spirit.
My jaded reaction that having this kind of hope isn't something that real people could do is partly right: it isn't something that comes naturally to us, or something we can manufacture. It is a gift we receive from God, a gift we can ask for and that will be joyfully given, a gift we can nurture, a gift that is nothing less than a beautiful mystery.
This gift allows Mary and us to do two things: remember God's faithfulness to the individual and the community.   First, the gift of the Holy Spirit reminds her of what God has already done for her:
"For He who is mighty has done great things for me"  
Second, the Holy Spirit reminds her of what God has done for her community:
"He has shown strength with his arm…
he has exalted those of humble estate …
he has filled the hungry with good things …
He has helped his servant Israel …"
This Christmas, I'm asking for the gift of hope. I'm asking the Holy Spirit to come upon me and the power of the Most High to overshadow me, as He did to Mary.   I am praying Paul's powerful prayer from Romans Chapter 15 over myself and over a world sorely in need:
"May the God of hope fill you with all joy and peace in believing, so that by the power of the Holy Spirit, you may abound in hope."