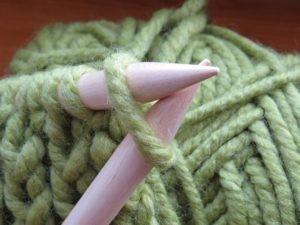 Yesterday I took a piece of my life and wrapped it in cotton-candy-colored tissue paper. The attached note, tied on with matching ribbon, declared that in this gift — this prayer shawl — every stitch was a prayer.
This is not exactly true. It is true that when I take up the needles, I pray — if it is someone I know, I pray for the specific ways this shawl will bless them. If it is for a stranger, I pray for God's peace and love to surround them.
But every stitch a prayer? That's a bit of holy hyperbole.
You see, woven in with the prayers is my life. Like a second strand of yarn, the pattern also contains whatever spiritual vibe comes from binge-watching Monk. My intercessions are for the friend who will receive this shawl, but sometimes they are also for my anxiety du jour. The steady breathing of the cat who sleeps next to me is as much a part of this undertaking as the sheep who has offered his fine coat to warm another. I fear the frustration of ripped-out rows or the impatience of wanting to get on with the next project also becomes part of my offering.
All of which is to say, it's not all spiritual ecstasy and choirs of angels. It is simply hour after hour of my life.
Perhaps that is why I feel an emptiness when a project is wrapped in its beautiful paper and given away. I am proud of the beauty I have created and anxious to see it wrapped around someone who needs the joy and comfort of knowing that they have been prayed for. But I also feel like I've given away a chunk of my life, hours that do not seem as abundant as they once did. Wrapped in that tissue paper, tied up in that beautiful raffia bow is nothing less than months of prayers and petulance, intercession and impatience, and the discipline and occasional tedium of showing up, day after day, row after row, and committing to the work.
People who have received shawls often comment that they can feel the prayers embracing them. I wonder if they can also feel all the other things that have been absorbed into the strands. I wonder if I am now spiritually connected to this person in ways neither of us can fathom.
Of all the shawls I have made, some stand out.
The shawls I gave to my friend Jean when her mother was so gravely ill — one for her, one for her Mom. Jean and her Mom are both gone now, and I wonder where these pieces of me are now.
The one I gave to one of my oldest friends on the eve of her first chemo. In the months that followed, when I felt frustrated at being so far away, I imagined the shawl was an adequate stand-in for me.
The one that was left behind on one of the trips to the emergency room that were too commonplace in the last year of my father-in-law's life. I like to think that part of me still rides around Kansas City in an ambulance with others who are afraid and in pain.
These invisible bonds between knitter and knitee bring to mind Dorcas, a woman we meet in the book of Acts. Dorcas was a seamstress who formed a community with needle and thread. She sewed tunics for "the widows" — women who were vulnerable, forgotten and often in need. And when she died, the widows held her legacy in their hands — all those simple, everyday garments that at first glance were unremarkable. Until the widows told their story — how they were made with love and how they bound Dorcas to them, and them to each other. As I work on my latest project, I wonder if when I'm gone, my "widows" will show their shawls to the other mourners and say, "See how she loved us."
The story of Dorcas goes on to include a miracle. Their grief was so intense that they sent for Peter, who raised Dorcas from the dead, restoring her to the community, mending the fabric torn apart by death.
When I die, I do not expect to be miraculously resurrected as Dorcas was, at least not right then and there. But I do expect that the same power that brought Dorcas back to life will be active in me today and will allow me to serve others. I do expect that same power that brought her back to life will one day do the same for me.
Until then, I bind myself to people I love and people I will never meet with the softest wool and the smoothest needles, weaving in prayers and To Do lists, fervent intercession and mindless sitcoms. I will sit alone, hour after hour, like a busy little spider creating webs of connection between me and the world.
I will give myself away and find myself mysteriously replenished.